In Pursuit of the Picturesque: in Pictures (Observations from New Zealand), 2013 - 14

Seeing Nicolas seeing Nature as a picture. Buller River / Kawatiri, Buller Gorge (2014), Instagram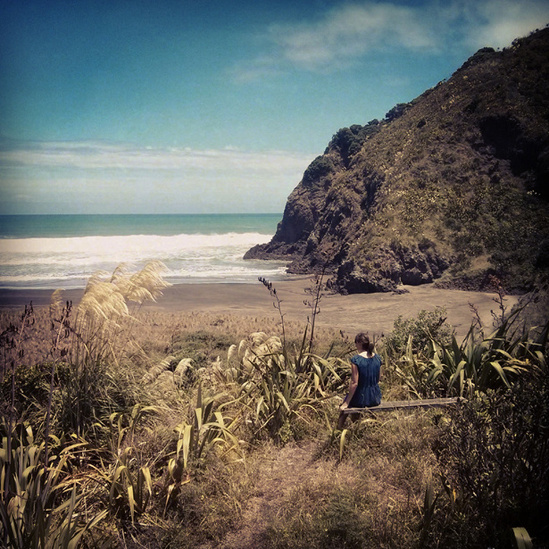 Anna as spectator of Nature from the designated viewing station on Rose Track, White's Beach (2014), Instagram
View of Mt. Taranaki (Egmont) from the south (2014). After Charles Heaphy's Mt. Egmont from the Southward (ca. 1840), Instagram
A man and young boy rest in the shade of a noble pohutukawa, whose withered boughs and gnarled trunk have withstood the rage of battering winds and rough seas to form a pleasing picture. Pataua Whangarei Heads (2013), Instagram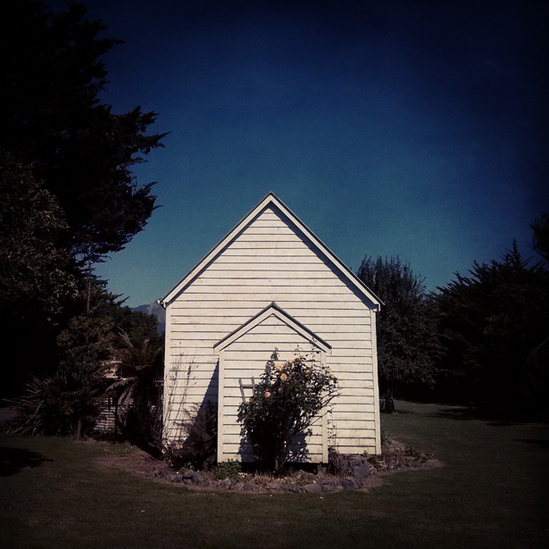 Exterior of St Francis' Church. Built in 1890 on land gifted by elders, St Francis' was founded by the man who introduced Catholicism to the Kaikoura Maori; great-great-great-uncle Hohepa.Originally, Hohepa was taken up north as a slave on Te Rauparaha's travels, but was later released, bringing Christianity back with him from the Otaki region. Mangamaunu, Kaikoura (2014), Instagram
Interior of St Francis' Church, Mangamaunu, Kaikoura (2014), Instagram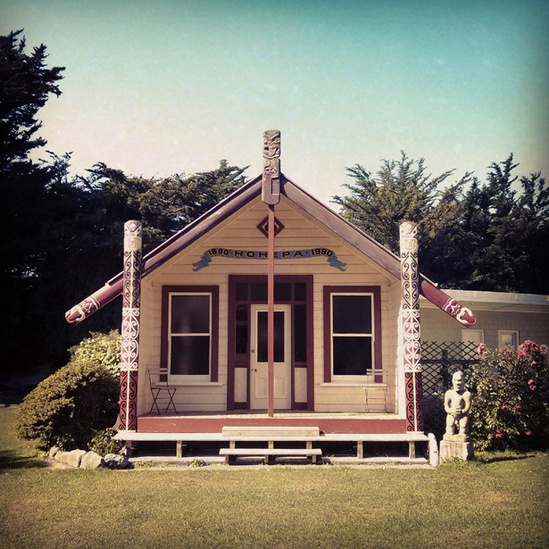 Exterior of wharenui Hohepa, built in 1915 and named after great-great-great-uncle Hohepa. Mangamaunu marae, Mangamaunu, Kaikoura (2014), Instagram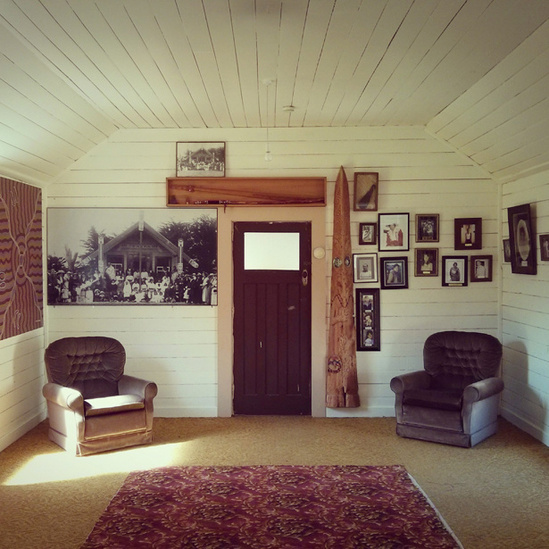 Interior of wharenui Hohepa. Hanging to the right of the doorway are photographs of deceased family members from the Jacobs line, and to the left, a formal photograph commemorating the opening of wharenui Hohepa in 1915, Instagram
Nature's varied range from a high perspective. Buller River / Kawatiri, Buller Gorge (2014), Instagram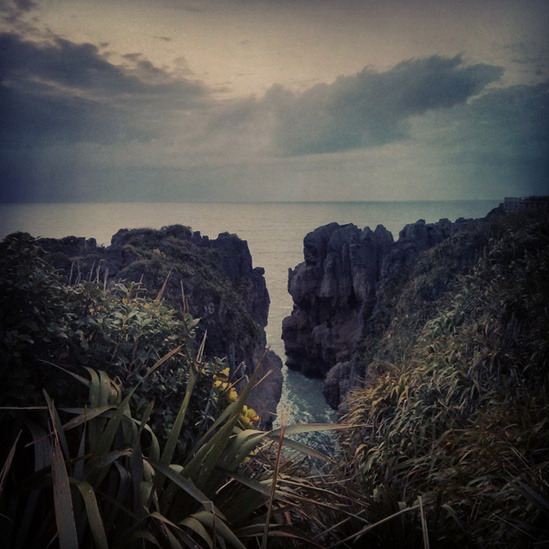 A rugged chasm, Punakaiki (2014), Instagram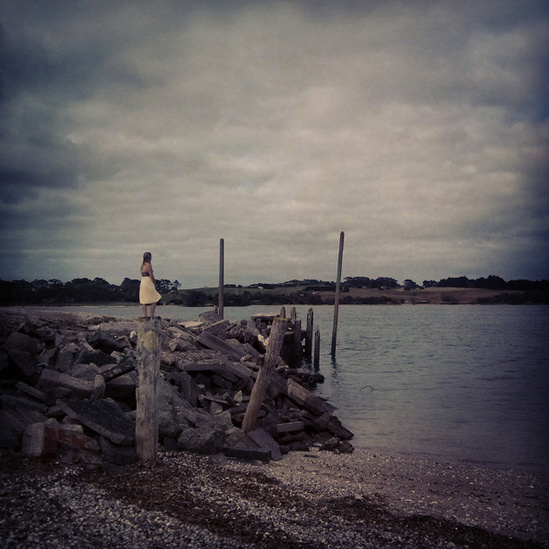 After bathing, Eve scales the ruin of the old wharf to take in the view towards Awhitu. Clarks Beach (2014), Instagram
Pohutukawa on a cliff, Clarks Beach (2014). After John Kinder's Pohutukawa on a Cliff, Whangaparoa (1868), Instagram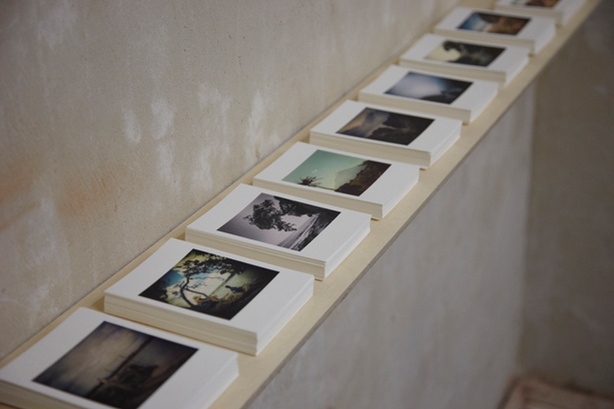 Installation view @ Giftraum, Das Gift, Berlin (2014) | Photo © Sam Muirhead
Installation view @ Giftraum, Das Gift, Berlin (2014) | Photo © Sam Muirhead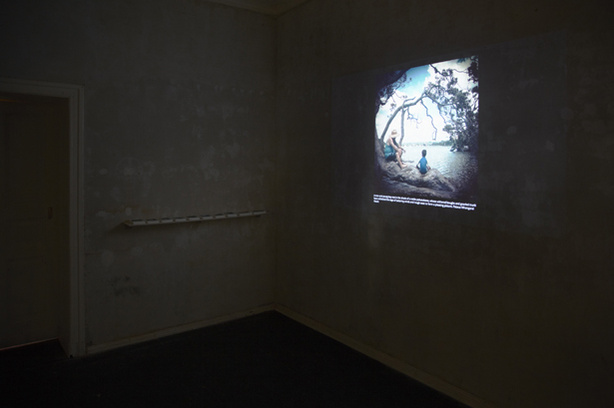 Installation view @ Giftraum, Das Gift, Berlin (2014) | Photo © Sam Muirhead
In Pursuit of the Picturesque: In Pictures (Observations from New Zealand), 2013 - 14
Using Instagram as the contemporary version of an eighteenth century Claude glass*, I diligently roam the New Zealand landscape capturing sights, objects and vistas in the manner of a picturesque enthusiast.
While experimenting with popular photo enhancement features and in all eagerness of good taste, I share my trophies as proof of experience. Presented here are moments of pause within a journey through idyllic scenery, studded with family history.

*The Claude glass – also known as the black mirror, was a small convex mirroring device used to aid picturesque artists and tourists in framing and composition in the tradition of Claude Lorrain. It requires the user to turn their back on the landscape they depict, viewing it as a tinted, reduced reflection of the original.
@conorvonclarks
**Box sets of 10 postcards (edition of 50) from the exhibition are still available, email me for details